Add Media to your Treehouse:
2. Upload Media
2. Upload Media to the ToL Database
treehouse builders toolkit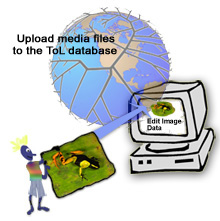 Before you can insert media you have created or media you have found on the web (that you have permission to use ) into your treehouse you will first need to upload (add) it to the ToL database.
Make sure that the media file you want to upload is saved on your computer and that there are no spaces in the file name. For example, don't name your file: "my cool frog.gif". Do name your file: mycoolfrog.gif. The Multimedia Reference has more information on the types of file formats you can use on the web.
For more help uploading images view: